WATERSHED AS SCENARIO FOR ADAPTATION TO CLIMATIC CHANGE WITH SOCIAL RESPONSABILITY: A PROPOSAL
Resumen
It is proposed that watershed areas, as planning units, are the adequate scenario to reduce the vulnerability of the territory against impacts such as global climate change and biodiversity loss.

The adaptive potential to climate change depends on factors such as the ecological integrity of watershed areas, the cultural adaptation of the communities and the management capacity of institutions. This generates a framework of responsibilities aimed to build a joint vision of land-region, to choose the best adaptation and education process, to sustainable use of resources, to food safety and to management biodiversity threats.

As a methodological framework for adaptation, we propose a joint strategy in the context of landscape modeling. Such strategy aimed to reduce ecosystems vulnerability, should promote not only the resilience of natural and transformed ecosystems, but also promote activities that involve a cultural change in the use and transformation of the territory. Such actions can be developed through a documented process and steps of social participation to stimulate the level of community social organization and generate discussions on watersheds adaptability to climatic change.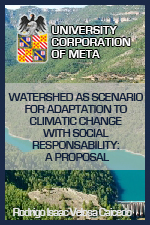 Descargas