SOCIAL RESPONSIBILITY BY THE OIL SPILL OR DERIVATIVES DURING ITS TRANSPORT
Resumen
Oil production in the Department of Meta, it has become the first producer at the national level based on the figure obtained, to reach 453,429 thousand1 barrels per day in December of 2011, this production has remained steady during the course of 2012.

The hydrocarbon volumes that are displayed at the top are mobilized through tankers by road the Department of Meta ways and/or pipelines, due to this, there is the latent risk of oil spills, or derivatives that cause disturbance to the biotic environment and surrounding communities.

Hence the importance of establishing the social responsibility associated with the transport of hydrocarbons or derivatives by the operators and mobilizers of the product.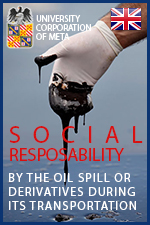 Descargas